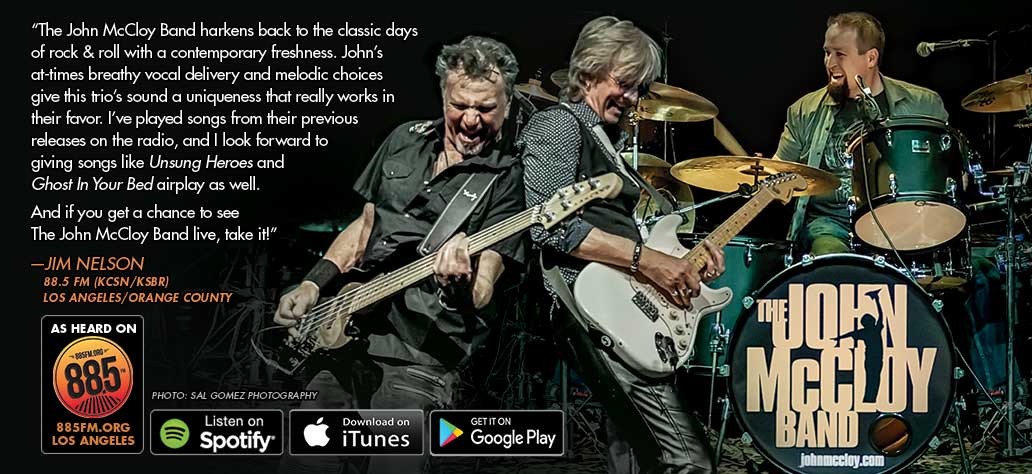 Music on iTunes and Amazon


MUSIC

We have no say in what we like.
We can only acknowledge what is reported from within.
So that's why it means so much when my songwriting is well-received.

I've "played" my dues in the clubs of Los Angeles and Hollywood
including Madame Wong's West & East, The Roxy, The Palace and the Troubadour.

I finally got signed as a bass and guitar player with Ten Inch Men produced by
the incomparable Neil Dorfsman. But Victory-Polygram decided it was easier
to repackage established artists than to try and market a non-grunge
band in a Nirvana-dominated radio.

If you like anything from my latest recordings I would behonored.
They are available for download at all music online stores like iTunes.
All donations go to a good charity:
"The John McCloy Band Rent and Bill Payment Foundation" :-D

If you're into Spotify, please come check out my band.


GRAPHIC DESIGN

I got my Bachelor's Degree in Fine Art/Graphic Design at UCLA and got day jobs
while playing the clubs. My first entertainment-based design job was as a paste-up
production artist at CBS-TV doing TV Guide ads. My resumé and portfolio filled
up with work for the major film studios.


FINE ART PAINTINGS

Dyansen Galleries in Beverly Hills displayed my paintings of Rock, Blues and Jazz artists.
Here are the ones I still have on my living room wall.
"The John McCloy Band harkens back to the classic days
of rock & roll with a contemporary freshness. John's
at-times breathy vocal delivery and melodic choices
give this trio's sound a uniqueness that really works in
their favor. I've played songs from their previous
releases on the radio, and I look forward to
giving songs like Unsung Heroes and
Ghost In Your Bed airplay as well.
And if you get a chance to see
The John McCloy Band live, take it!"
—Jim Nelson
88.5 FM (KCSN/KSBR)
Los Angeles/Orange County